Private Equity
Third Shipping Deal in Six Months for Talis Capital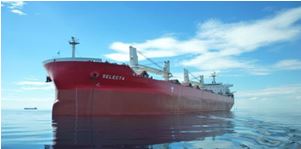 22nd January 2014
Talis Capital recently advised on the latest shipping transaction – the acquisition of a 12,200dwt 2011 built general cargo vessel.

This vessel will be operated in the Black, Mediterranean and Azov sea region, alongside the existing fleet advised by Talis Capital. Full ship management services will be provided by INTRESCO LTD; a fully integrated ship management company based in Vienna, which provides sale & purchase, commercial, technical, day-to-day operational and crew management services.
Shipping is a sector the Talis Capital team has experience in, and has been actively monitoring for several years. While many investors now recognise the broader opportunity in shipping, Talis Capital has identified a niche sector of the market which can provide unlevered annualised yields above 15% and high levels of capital protection for investors.
This deal completed a successful 2013 for the London-based multi-family office. Further to advising on the acquisitions of two dry bulk carriers earlier in 2013, the latest transaction marks the beginning of a considerable expansion of the fleet advised by Talis Capital. Having identified a pipeline of acquisition opportunities, Talis Capital is raising investor commitments for Project Blueline, which intends to complete 4-6 vessel acquisitions in the first half of 2014. Subsequent acquisitions will be made later in the year, subject to attractive opportunities remaining within the niche sector.
Vasile Foca was one of the co-founders of INTRESCO back in 1997, which has since grown to be one of the biggest private ship owners/operators in Central & Eastern Europe. INTRESCO has been operating in the bulk carrier segment with Handysize and Supramax vessels since 2001. The heritage of the cornerstone families in energy trading also adds experience and expertise to Talis Capital.
Vasile Foca, director and co-founder of Talis Capital said, "This is the third vessel acquisition of 2013, which has been an exciting year for the shipping portfolio. The existing vessels have been operating ahead of budget and we anticipate the larger tonnage of the latest vessel will serve to meet growing demand from Charterers in our markets. We continue to find opportunities with the specific characteristics that we require, at discounted prices. The tougher operating environment in shipping since the financial crises offer substantial opportunity for long term investors working with proven operators, targeting specific niches and geographies."
Matus Maar, director and co-founder of Talis Capital added "the recent uptick in optimism for charter rates is well recognised by market participants, however we find the vessel supply conditions in our niche even more interesting. The fleet in these specific markets is aging, which combined with record scrapping levels and a limited newbuilding orderbook provides some key attractions to operating modern and fuel efficient vessels. Although comfortably profitable at current charter rates, the fleet would immediately benefit from any broader uplift in charter rates as our vessels are fixed on spot-basis, rather than time-charter agreements.
Nikolay Ostapov, Managing Director and co-founder of INTRESCO Ltd (Ukraine) commented "we are pleased to strengthen the relationship with Talis Capital, having known the team for many years. The latest acquisition enhances the track record of our partnership, and we look forward to working with Talis Capital in the maritime sector over the coming years. Talis Capital has proven to be a very reliable partner and with our technical expertise and years of shipping experience, we are confident of delivering attractive returns for investors."
Maksym Khaulin, Deputy Director and co-founder of INTRESCO Ltd (Ukraine) added "I began my career in the shipping industry in 1994 and have worked alongside many partners in my time, however I consider the Talis Capital team friends as well as colleagues. We operate as one seamless team and I believe this element is very important for success in the shipping business. Our team look forward to working with new and existing investors, who see the exciting opportunity in our niche sector of shipping."
About Talis Capital
Talis Capital is a London based multi-family investment office. The team behind Talis Capital has been successful with a portfolio of private equity investments since early 2009, closing over 15 transactions and already achieving successful exits. Talis has a generalist approach with main experience in natural resources, agriculture, shipping, general private equity and digital ventures.
About INTRESCO
INTRESCO LTD is a fully-integrated ship management companies which provides the full scope of ship management services in accordance with the highest shipping standards. Operating a modern fleet of the bulk carriers and general cargo vessels, INTRESCO provides full marine and river transportation services. INTRESCO has experience of transporting bulk and dry cargoes, particularly grain products, steels, fertilisers, petroleum coke and other commodities, along worldwide shipping routes. INTRESCO is registered in the European Union with the main offices in Vienna (headquarters), and in Odessa, Ukraine. Since 1997, the company has been acting as a dry bulk and general cargo operator of a growing fleet of handysize, handymax and supramax type bulk carrier vessels as well as general cargo vessels with deadweight of up to 21,000 tonnes. The company is a member of BIMCO (Baltic International Maritime Council) since 2003, ISM/ISPC certified by RS, ISO 9001 certified by BV, accredited by UKAS and ANAB and works with various IACS class societies such BV, LLOYD, RS, RINA, GL and NKK.